Recently, Bark Frameworks collaborated with Timothy Taylor Gallery in Chelsea to frame a number of works on paper for "Alex Katz: Subway Drawings" (the exhibition was presented in collaboration with Gavin Brown's enterprise), Apr. 27 – June 30, 2017.
Alex Katz, who attended The Cooper Union in the 1940s, chose to develop his style by sketching subway riders and strangers in parks — as opposed to the studio models his classmates drew for practice. Commuting to and from school from his parents' home in Queens, Katz captured fleeting moments in time and place. "I like the subways because the people are so interesting to look at," Katz told Vogue in an interview this past April. "The clothes and the colors and all that. I still like it" (Katz now lives in SoHo). Timothy Taylor Gallery mounted a show of the artist's sketches, pulled straight from his notebooks. The works are small in size, but highly intricate and intense. It is not only fascinating to see these 7" x 9" works by an artist known for his large scale paintings, but also a rare opportunity to see early drawings by a man who destroyed many of his formative works.
Bark designer Paul Jordan worked with curators from Timothy Taylor to frame Katz's delicate works on paper. It was an aesthetic challenge to keep the frames unobtrusive. Ultimately, maple frames with a custom rub finish were chosen (an example can be seen here). A number of the sketchbook drawings from the 1940s to be framed were double-sided, to show the artist's notes on the back of the notebook page, which posed certain issues.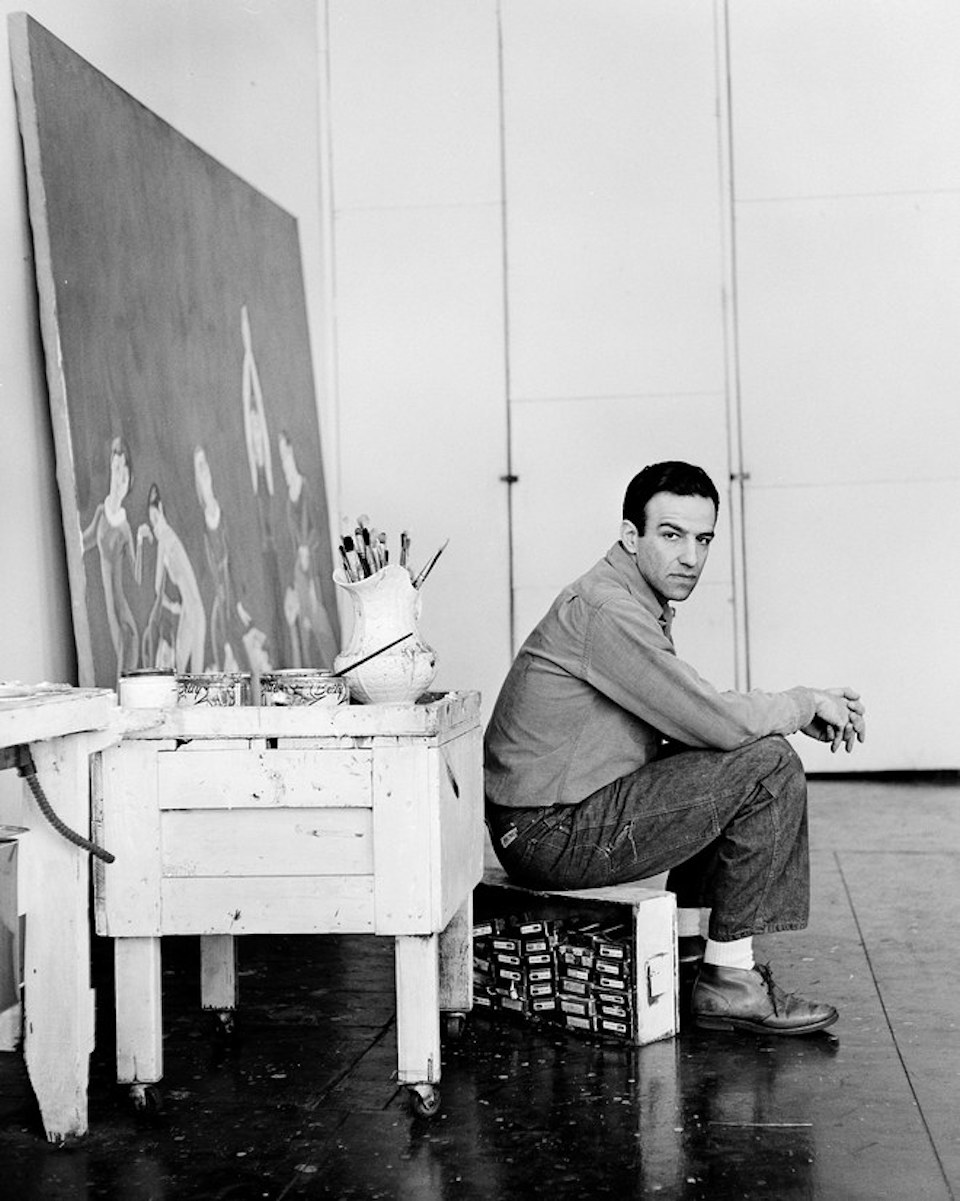 In fitting the artwork into the double-sided frame designed by Jordan, the hinging process – or attaching of the artworks to the mats – was very precise. "We wanted to keep the hinging minimal, and cover the least amount of area on the verso of the drawing as possible," explained Jordan. "Following our standard practice, our technicians employed archival and reversible methods — Japanese paper hinges and rice starch paste were used in the hinging process. We allowed for about 1/16" float space all around the artwork." Two 8-ply mats were also used — one on each side of the artwork.
Jordan used beveled maple strainers, which were finished with the same white and ivory rub finish to match the frames, which served to keep consistency and to ease viewing.
The framed works were displayed in the gallery space following a semi-chronological order, tracing "the process of an artist finding his hand" (Vogue).
While the Katz frames have a defined front (drawing) and a back (text), we often design and build frames for works that are truly double-sided, i.e. that serve to display two distinct works of art on each side of the paper. Usually this requires a free-standing frame that is — like the artworks — double-sided. An example below (frame has no art in it, just mat board), a double-sided frame where both sides are designed exactly alike, and each side of an artwork can be presented exactly the same.
As shown here, our designers can create myriad ways to display almost any type of artwork.
Text, frame photos: Jennifer M. Clark
Installation photos: All artwork by Alex Katz; photos courtesy of Timothy Taylor Gallery.