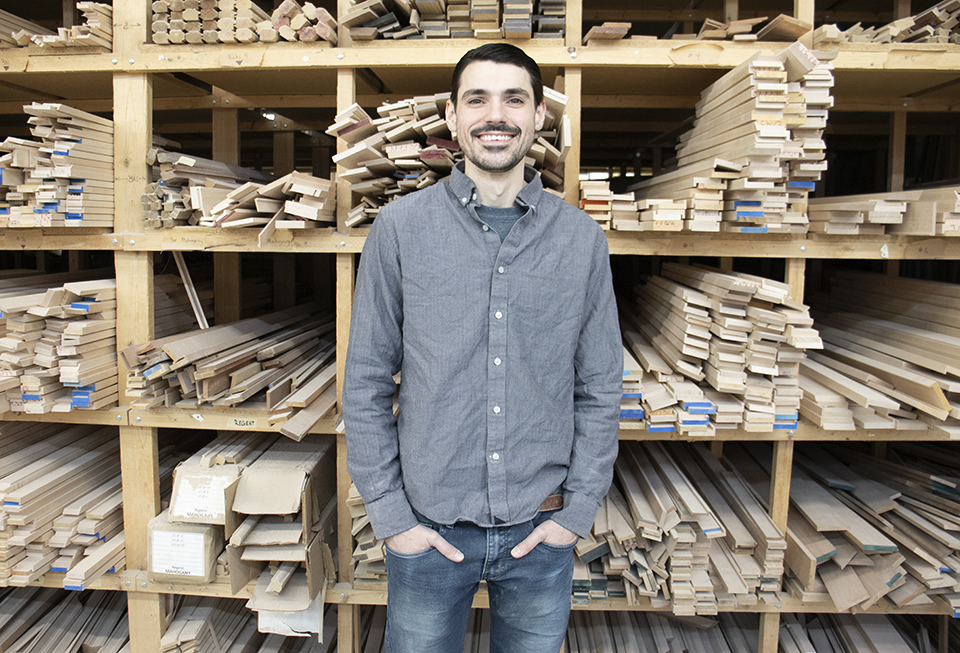 Employee owner name: Ethan Ellis
Department/Job at Work: Woodshop (Ethan has also worked in our Art Preservation dept., and on our truck).
Number of years working at Bark: Seven years
Hails from: New York, NY.
What did you do for work before you worked at Bark Frameworks?
I went to art school, but I also went to film school in Philly (Drexel), so I worked in the entertainment industry – in reality TV. As a way of being able to sleep at night, I chose to do food-based reality TV (like "Cake Boss"). From there, I did Food Network and TLC shows ("Chopp'd," "24 Hour Restaurant Battle," etc.). Long days, and it was kind of stressful. From there, I transitioned to commercial work, then did special events (like the Macy's Thanksgiving Day Parade). But I got burnt out by the industry. At the same time, my dad was running a hotel in upstate NY, so I moved up there for a few years to manage the restaurant there. I bartended. I was the maintenance person, the I.T. person, everything except for cook! It was the beginning of me wearing many hats at my job.
After a few years, I missed NYC (even though I loved the skiing upstate), so I moved back down in 2015. My mother was working at the Morgan Library at the time, so I helped out there for a while doing preparator type work. My mother knew of Bark Frameworks, which led to me having a conversation with then-registrar Chris Feczko. We got coffee and talked about my career path. I always loved the art world, and had my art handling certificate. Chris gave me some suggestions, I interviewed a few places; and ended up working on the Bark truck! (I knew how to drive big trucks from working in the entertainment industry).
What is the biggest challenge in your area of work at Bark?
It's keeping up our standards and attention to detail. It's noticing the things you feel like no one else is going to notice. If my name is on something, I want it to be good. If there's a flaw, I want to get rid of it, be it with sanding ornate frames, or correcting blemishes on a mat. In sanding, it can be "good enough" — a phrase I use is "the perception of perfection." At the end of the day, we are creating something handmade. It's made by humans, not machine-made, so it shouldn't be absolutely perfect. We're not robots. But to the human eye, it should look flawless.
The other challenge is in installations (which I also do for Bark). That's an interesting problem-solving challenge, because you have to think: how will this hang? But also "How will it fit in the space?" What wall space is left? Where should the eyeline be? Things have to be balanced. It's mathematical to a degree; but something being aesthetically pleasing is difficult to quantify. Its more intuitive than anything…
Also, with regards to installation, each building we work in is different; some don't have level floors or ceilings. So sometimes we have to hang the works slightly un-level for it to "look" level – you have to trick the human eye.  The reward in speaking to clients comes if they just moved into a house or renovated it, to experience the joy of seeing the art hanging up. After we leave, or the next day, they come into the space and finally see their artwork hung in the space, and see how it works within the space, and it makes them happy. I feed off of other people's energy, so I like making other people feel emotional in general.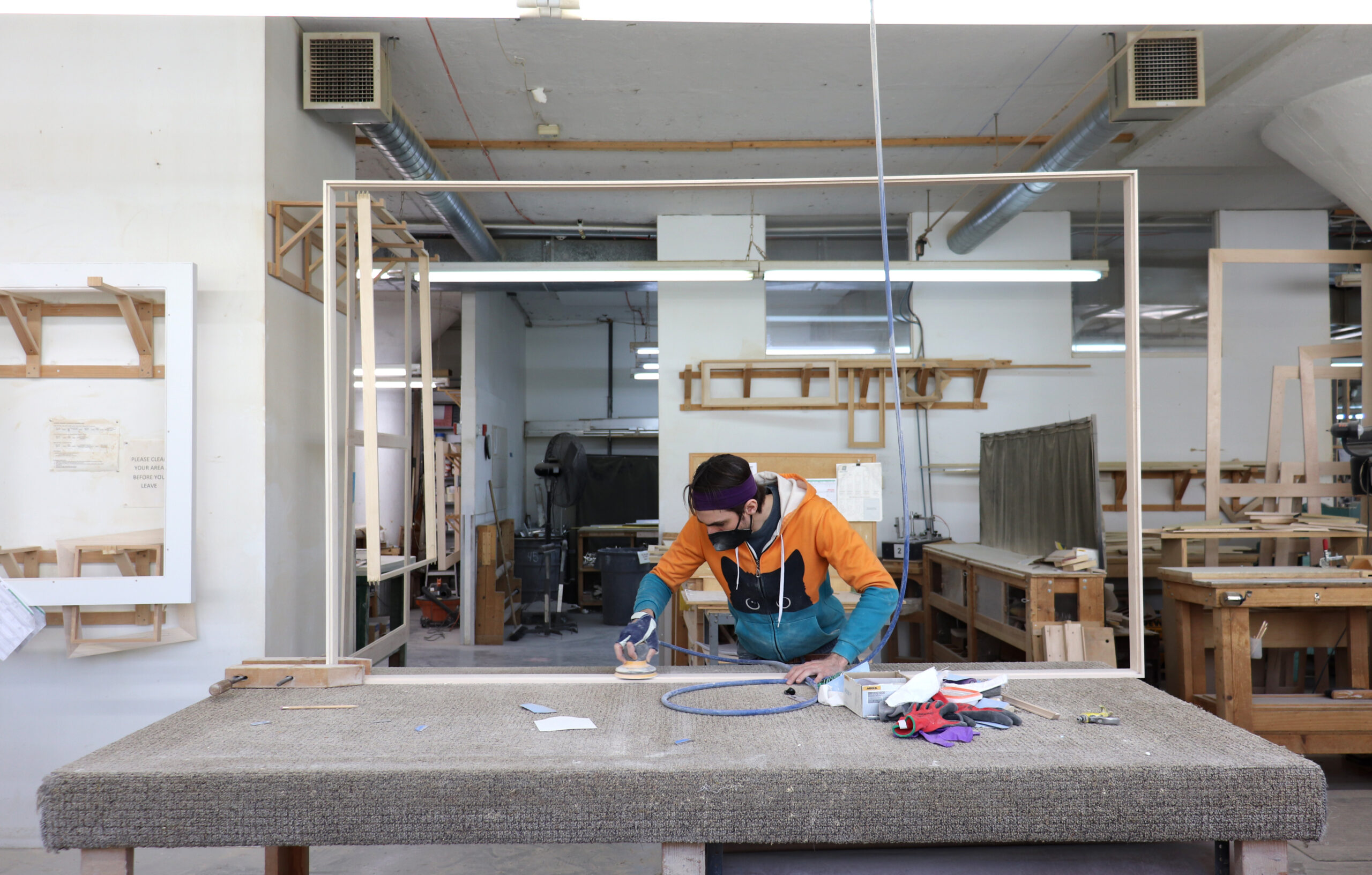 Ethan sands an oversize maple frame in our LIC shop.
Tell us a bit about your work with clients.
Yes, a positive challenge is working with clients. There are some clients who know what they want, and some clients who don't. So I have a conversation with the client to try to understand what the artwork means to them, how they acquired it, where it came from. Art is that way – it's about how it makes you feel and what it makes you think about; what kind of headspace it puts you into. Then, the space of the apt. or home – and the light sources — are factored in as well. Once, we hung a landscape piece moving the eye towards the window [which also looked out onto a landscape]. Or maybe there's something in the piece that's more musically inclined, and it's hung near the piano or something.
It doesn't matter how much art is worth, it matters how much it makes you feel. Its not about monetary value; it's about emotional value, meaning, to the owner. Whenever the doormen of these buildings ask me how much the artwork we're carrying up is worth, I always say the same thing: "Its worth as much as someone is willing to pay for it."
With my mom being in the art world, I've been around people who have nice art for most of my life. So knowing that side of the art world is great, but I like that intangible aspect of art and the art world. I like the accessible part – a piece that means something to someone.
I remember picking up something (a Lichtenstein, I think) at Sotheby's to deliver to someone. We ended up hanging it in a hallway that led to a bathroom, which felt counterintuitive…but then we realized, well, everyone had to go to the bathroom!
What do you like best about working at Bark?
The people. I always like artistic expression, which is why I like art in all forms (cooking, drawing, etc). You can put artistic flair into anything you do, from digging a ditch to designing a room. No matter what department the people here work in, everyone here has some artistic talent. Its great to see how that manifests itself, especially in the Bark art show each year (Bark Frameworks usually participates in an all-staff art show in conjunction with the LIC Arts Open each year). I'm more of an abstract person in my own way, but I manifest mine either in creative writing, or in gardening (Ethan often brings in flowers from his garden)! My grandmother won awards for arranging flowers; and my mother gardens too. It's meeting people here and talking shop, but also talking art – news in the art world, TV, the natural world, cooking, etc. Or everyone here has their own personal style of dress. For example: I talk with [Bark Art Services Specialist] Sean [Brady] about his crates and how he puts his own stamp on them.
Any way you can express yourself or explore the world in general. Being able to pick peoples' brains about what they like artistically speaking is also fun!
Name a particularly memorable framing job you worked on:
We had to install an oversize piece once in a NYC apt. The frame was required to be assembled onsite, and we were on one of the top floors of the building. Having to move the frame in space, we had to rotate it, and it JUST cleared the space by a few inches. We had been installing there days earlier, and it was a challenge. How do we get it in there? How do we assemble it? How do we lift it? There were at least 11 or 12 Bark staff members helping!
Another memorable piece was one framed work that wouldn't fit in the elevator. There were no staircases in the building (it had been converted from something else), so the piece had to ride on TOP of the elevator to get up to the client's apartment!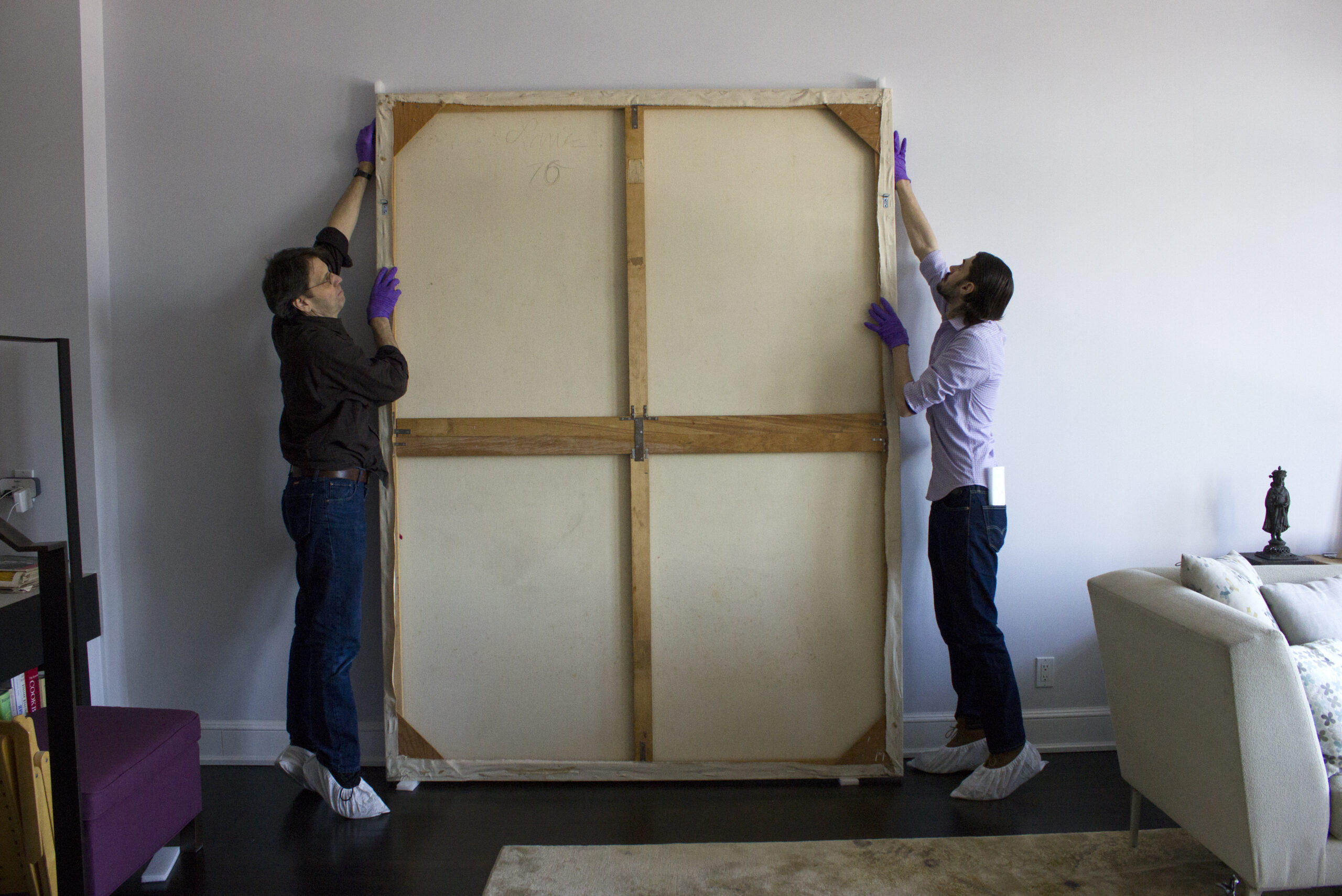 Ethan and Bark art installer Chris Ream installing a large-scale painting in a client's Manhattan home.
How has your life in- and outside of work changed as a result of the recent pandemic?
I learned some new skills, like improving on my cooking. I always had staple dishes, but I learned more. Because we were contained in one geographical area for the majority of the time, I learned more about NY State and explored it more, like Western NY and the Catskills.
What does being an employee owner mean to you?
To some degree, incentive; but whatever I do, I care. I care too much sometimes, I think. Being an employee owner creates the desire to not just see your job as a paycheck. There's a mission, a bigger picture. You're a part of something and want it to succeed and grow. It's not just a 9-5 job where you just clock in and clock out. It changes the mental outlook and your perspective on things.
Any outside hobbies/interests you have when you're not making frames? 
Gardening is my biggest hobby, as far as what I spend my time on. I specialize in roses and sunflowers. Years ago, I grew hops, and I have made beer, but they can also be used for ornamental decorations. Hops have a unique trait where they have a smell that can make you sleepy. King Henry VIII was an insomniac, and he used hop pillows to make him fall asleep; you can do that with hops too! I'll grow things I can't eat (I have food allergies to some fruits and vegetables), so sometimes I'll experiment with growing things for friends and coworkers. I'll bring foods or flowers into work just to share with people; it brings them joy! It's a dopamine hit.
Bleeding Hearts from Ethan's garden. To the delight of his coworkers, he brings in fresh flowers frequently!
Are you an artist?
I'm not an artist in a way that has any emotional purposes. With regards to my writing, I used to help at the Creek and the Cave (comedy club, in LIC). I'd go there after work, and help friends workshop jokes that would make it on stage even if it wasn't me presenting (I like being behind the scenes more). I'd watch friends do comedy sets; critique; so kind of producing comedy sets. I also do my own furniture assembling installation and mounting, hanging mirrors, etc. Hanging mirrors is always a challenge because you have to think about who's looking into it (height, etc) and you can't hang it un-level, because its immediately noticeable.
Thank you, Ethan!
Interview Text and Photos: Jennifer M. Clark
Published: January 2023.