Faith Ringgold, Slave Rape Story Quilt
Newark Museum of Art
We recently collaborated with the Newark Museum of Art to frame Slave Rape Story Quilt, a major work by the pioneering artist and activist Faith Ringgold (b. 1930, Harlem, NY). As Ringgold described in 1985, when the work was created: "The Slave Rape Story was very hard to do. There is so much we don't know about black women during slavery- it simply hasn't been written. I read a lot and simply made up the rest from what I thought to be true. The facts I researched, but the events are manipulated in order to bring a message of the sheer horror of slavery for black women in America."
For this story quilt—which is hand-inked and printed cotton–Bark designer Amy Hinten worked with Newark Museum collections staff toward a preservation framing solution for this oversized work that could incorporate Optium museum acrylic.  Because Optium doesn't come large enough, Hinten had 6mm Optium seamed together.  She picked a cream colored silk fabric for the fillet to match the fabric on the quilt mount, and Bark mounted the silk to the rag face fillets.  An additional challenge was that rag board also does not come large enough for this frame, resulting in mat board seams centered on the vertical and horizontal.  Mounting the fabric on top helped cover the mat board seams, and it also made the deep fillet less noticeable since it matched the art mount.
Hinten's recent design for the Ringgold quilt continues Bark's longtime collaboration with the Newark Museum on works in their renowned American art department, by artists including Alma Thomas, Wendy Red Star, Georgia O'Keeffe, and Alice Trumbull Mason.
In 2022, the New Museum in New York City will organize a major retrospective of Ringgold's work.
Image: Courtesy of Susan Fisher.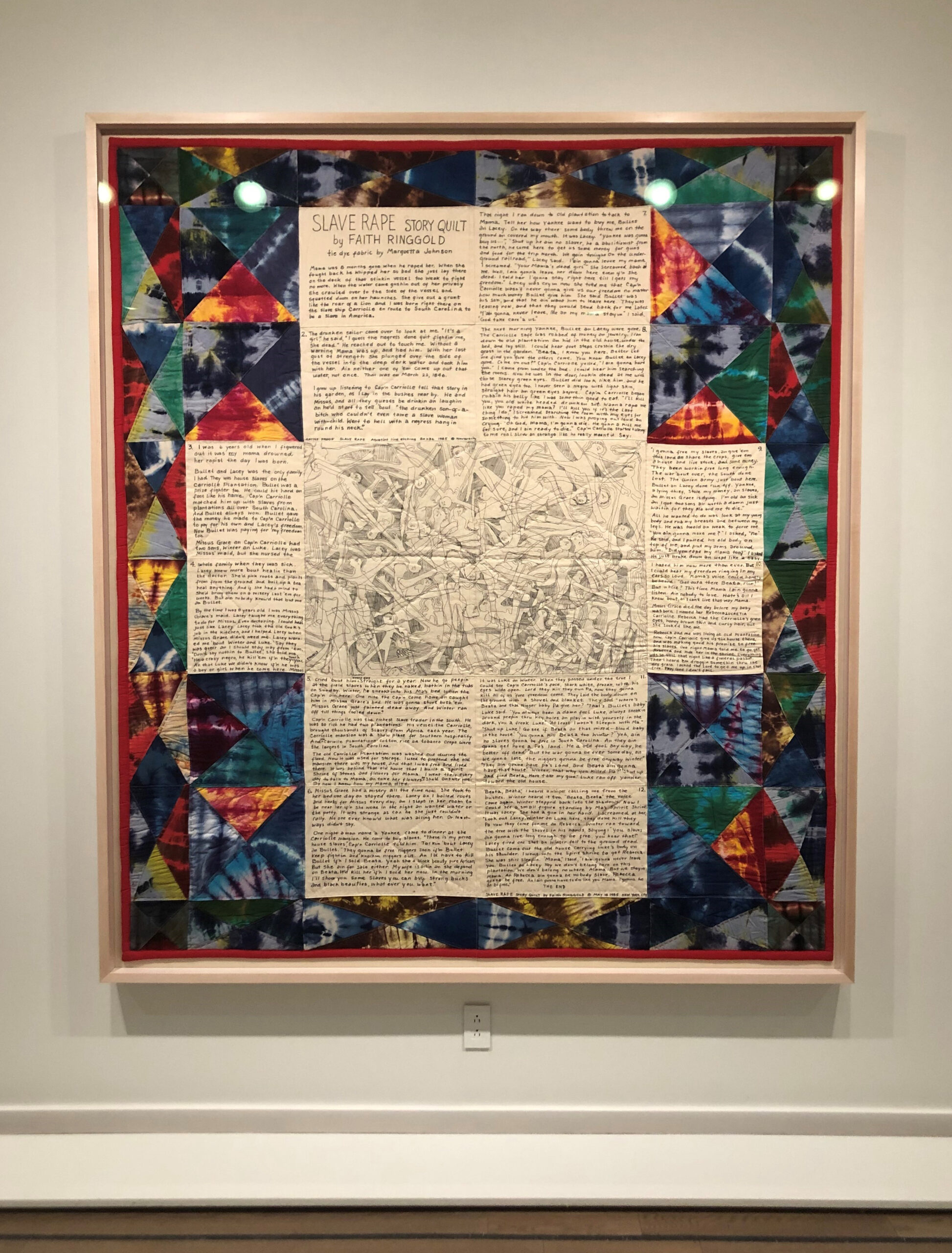 Faith Ringgold, Marquetta Johnson, "Slave Rape Story Quilt" (1985); tie-dyed and printed cotton fabrics and ink on cotton fabric sewn over polyester fiber batting; Newark Museum of Art.