When life gets serious…..suddenly poems get very important.
How do you frame the invisible?
Brooklyn-based artist and writer Jen Bervin explores philosophical and poetic thought via minimalist works made using text and textiles. A 2013 recipient of a Creative Capital grant, Bervin recently completed a three-year project exploring the artistic, scientific and historical facets of silk, a material with ties to virtually every culture in the world.
Brooklyn-based artist and writer Jen Bervin.
Bervin's international research included exploring traditional textile uses of silk in China — where the fabric originated 5,000 years ago — as well as studying more cutting-edge uses of silk, as in biomedical laboratories. As Bervin learned through her work with the Tufts University Silk Lab (and other biomedical labs), silk holds potential in the medical field because it is biocompatible with human tissue – it can be implanted into the human body and our tissues will accept it. When bound with proteins that target specific molecules in the body, the film acts as a sensor that "reports" back to doctors. The sensors can be programmed to detect targeted molecules like oxygen or glucose, or certain tumor markers; they can be placed during surgeries and communicate about post-op tissue healing.
Researchers at Tufts were working with liquified silk in the form of silk biosensors under the skin. When placed under the skin, the silk sensor transmits information optically to carry light from the skin's surface to the sensor and back, with the resulting information being read by a photodetector. Before it can be used as a sensor, however, the silk film must be nano-imprinted. Here, Bervin saw an exciting opportunity to create an artwork melding text with science – "if a sensor needs to be written, I would like to think very much about what would be written there," she said. So she wrote a book-length poem, completely in nano-text, inscribed on liquefied silk.
Bervin created her poem in chains of six characters each, in the form of a "boustrophedon," a winding ancient Greek pattern. This design was no accident — the left to right pattern traced back and forth on the liquified silk simulates the way a silk worm "writes," and mirrors how silk looks at the DNA level.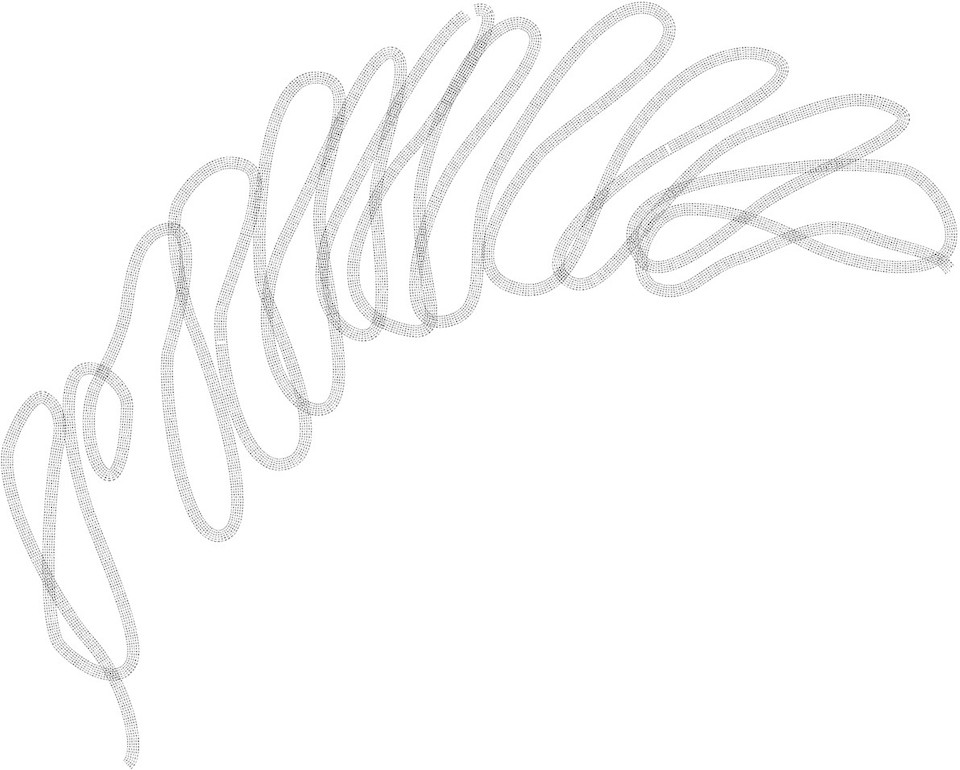 Under magnification, the nano-pattern of Bervin's poem looks like the pattern a silk worm weaves when it makes a cocoon. Image courtesy of the artist.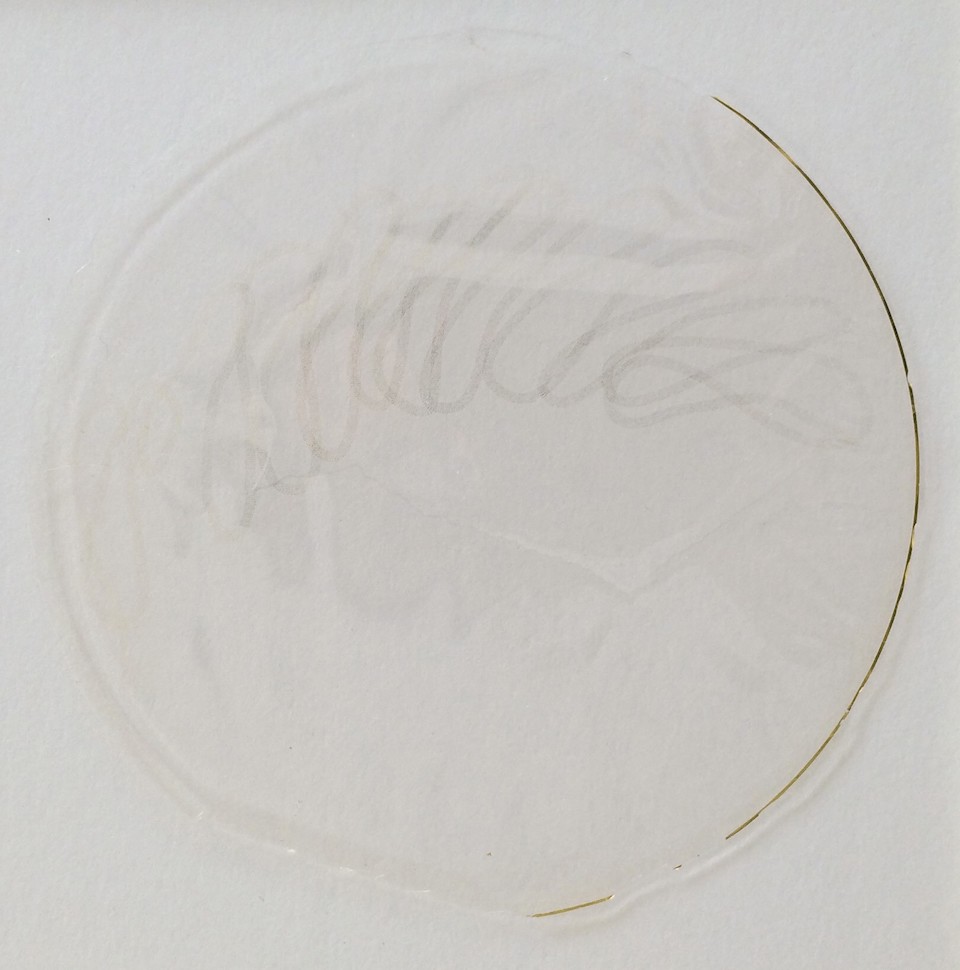 Bervin's poem was now inscribed in liquified silk, but it was also invisible to the naked eye.
The artist approached Bark Frameworks this past May with her microscope and a unique framing project: she wanted us to frame the liquified silk on which the poem was written — to present it, but also to protect it. This protection was much needed, as the public would be viewing this artwork at "Explode Every Day: An Inquiry into the Phenomena of Wonder," currently on view at Mass MoCA in North Adams, MA.
Bervin worked with our designer Paul Jordan to create a special acrylic housing for the poem with two goals in mind: facilitating viewing of the text through the microscope, and keeping the delicate work safe. The liquefied silk that held the nano-inscribed poem was about 6" in diameter. Jordan cut two pieces of Optium Museum Acrylic (UV-blocking, virtually no static) and had all of their edges polished. The acrylic provided protection for both sides of the silk, while a thin black mat border sparated the two acrylic plates. The liquefied silk could rest in that space, visible through the microscope lens but out of any direct contact with the surrounding environment.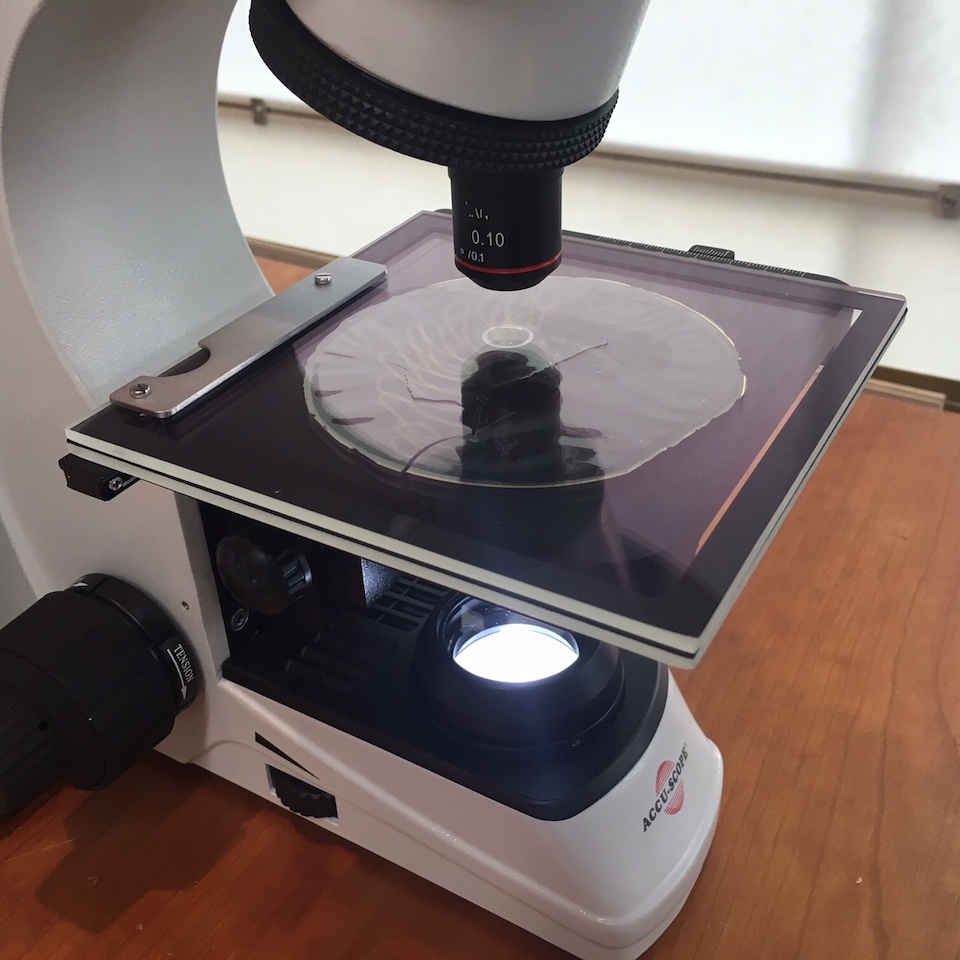 All of the layers – the top acrylic layer, the mat board, and the second acrylic sheet – were then secured using two screws that threaded into the platform of the microscope through a modified aluminum plate.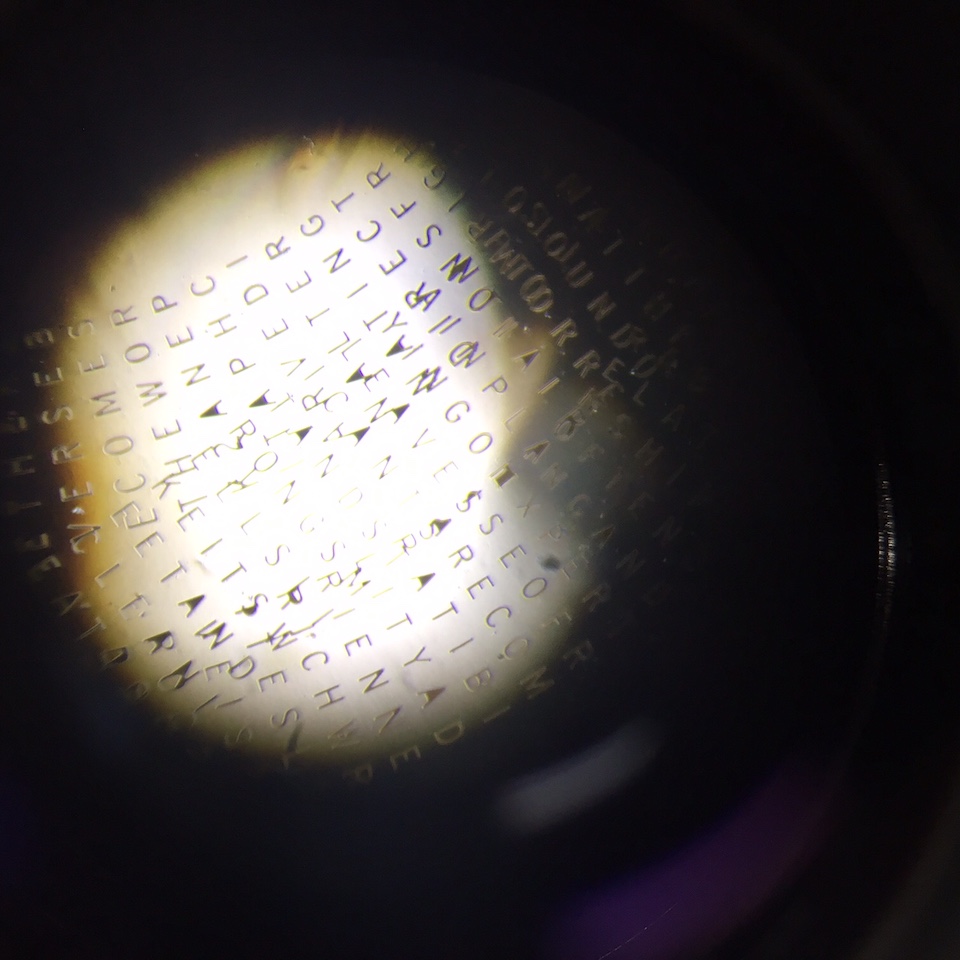 The microscope was then focused, and Bervin's poem – and all individual characters of text – was safely visible to viewers.
"Explode Every Day" is on view until April 3, 2017.
For more on Bervin's work, visit jenbervin.com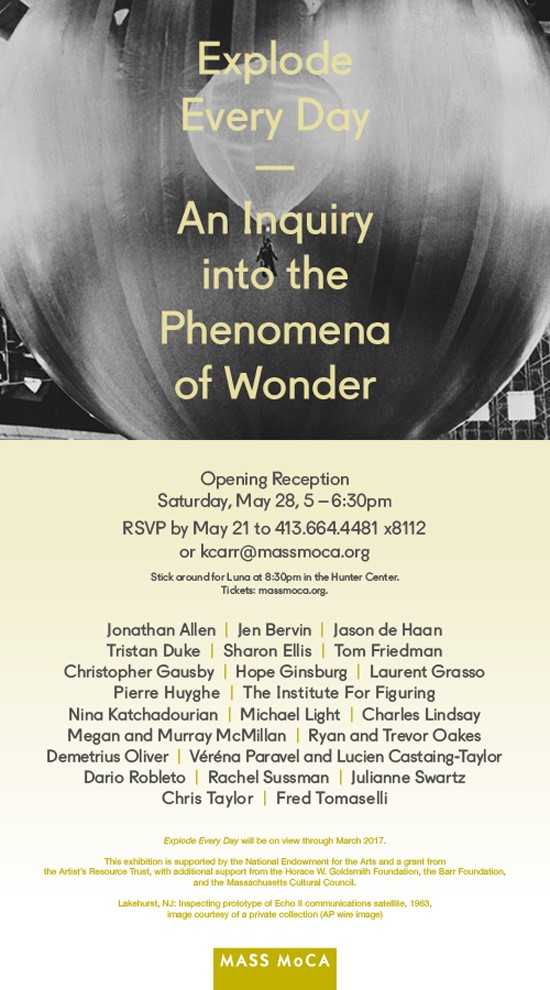 Text by Jennifer M. Clark
Images 3, 4: Photos by Paul Jordan.