Bark Frameworks Marketing Specialist Jennifer Clark interviewed Amy Hinten, who has designed frames for Bark for 13 years, about creating designs to present photographer Sally Mann's ambrotypes, which were shown at Edwynn Houk Gallery in the fall of 2012.
Jennifer Clark: To start off, tell us about this show. What are ambrotypes?
Amy Hinten: The show was called "Upon Reflection." While recovering from an equestrian accident, Mann created a series of self-portraits using the ambrotype process–wet-plate positives on a large, black glass plates. Some plates were to be displayed singly; others, the artist and gallery wanted to join in groupings of 3, 9, 20, and even up to 75 plates. During the exhibition, the gallery displayed the plates without frames, using aluminum tracks mounted to the wall for viewing (image above). However, once the works were purchased by collectors, they had to be framed/encased in some way in order to keep them safe. I worked with the gallery on this.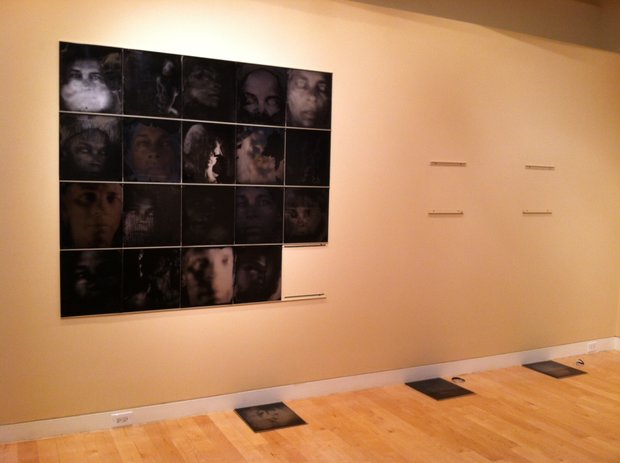 Sally Mann, "Upon Reflection," at Edwynn Houk Gallery. Fall 2012.
JC: How did you approach this framing challenge?
AH: A few different ways. One collector had a single ambrotype plate, and wanted to display it in his home outside of a formal frame, so I designed a custom easel for him. He had also purchased a grouping of plates, but the request for displaying them was similar: minimize the visibility of the formal frame. For those, I designed special hardware that held a series of plates together, and installed them into a welded aluminum frame.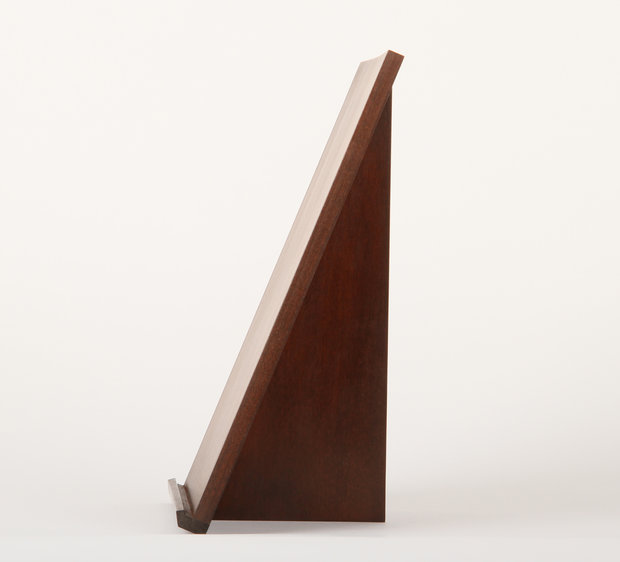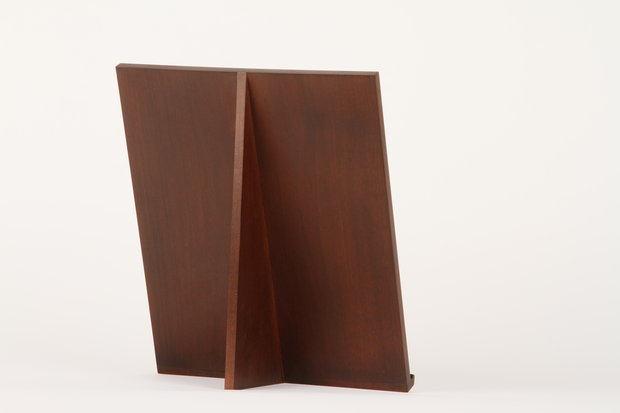 JC: Tell me more about designing the easel.
AH: I custom designed the easel so that it fully supported Mann's ambrotype, while not distracting from the work (photos of a duplicate easel are shown above). The client wanted to display the single plate work in a corner area of his living space, so he wanted the material and finish of the easel to blend with the design scheme and surroundings. I decided to make the easel from maple, with a stain and wax finish. One special instrument I used to design it was a digital protractor (pictured below). The protractor helped me achieve the perfect angle for viewing.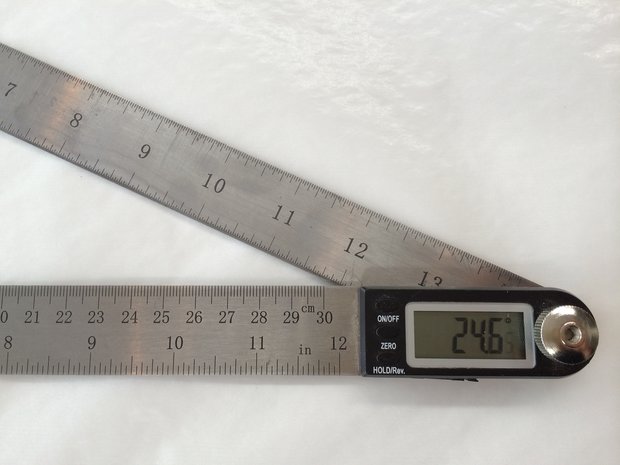 JC: And how did you accomplish a similar objective designing a frame for the grouped plates?
AH: For the collectors, it was mainly about being able to create structure, to hold a series of plates together (in groups of 3, 9, or 20 plates), while keeping any sign of a formal frame minimal. I designed special hardware from aluminum, in an "L" or "T" shape. The L pins were placed on the outer edges of the plates to hold them in place; the T pins went between the plates, minimizing the bulk of the hardware by using one pin rather than two. We made special hardware from 1/16" aluminum and sprayed it black. (See the two images below). We left about 1/8" between the plate in the frame. The hardware was lined with Volara (an archival polyethylene foam) before being installed in the frame. Once the plates were grouped together, they were installed into an aluminum frame with a hand-applied, black patina. The frame was glazed with anti-reflective glass.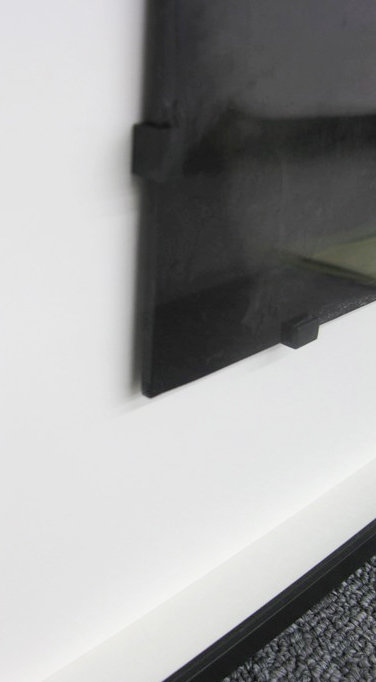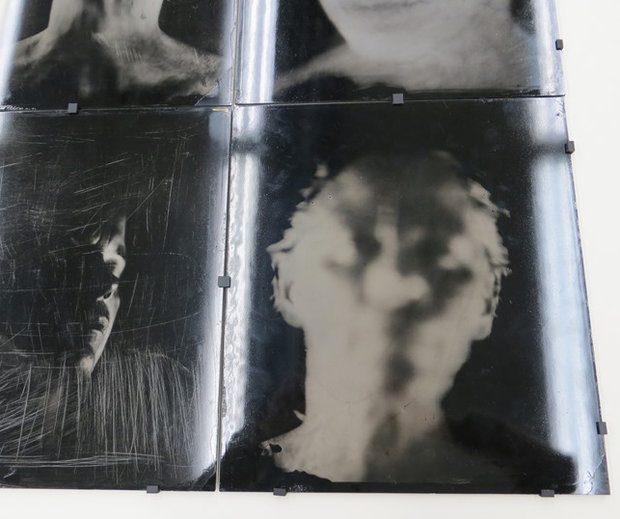 JC: Which posed more challenges to you as a designer, creating the easel, or the framing system?
AH: Designing the easel was more of a challenge, because I don't design easels as often. It was a challenge because I wanted to use the same vocabulary of materials as when I design a frame, but I had to do it a little differently. The collector was very pleased with the finished product in both cases. With both the easel and the frame, we were able to custom design a structure specifically made for his art and display environment.