Jennifer Clark interviews Bark Frameworks designer Paul Jordan.
American artist Stephen Hannock (b. 1951) paints luminous nocturnes using mixed media that are ultimately polished with random orbital sanders. His atmospheric depictions of rockets and flooded rivers seem to glow with an inner light. Hannock's influences include British and American landscape painters of the 19th century, as well as sculptor/illustrator Leonard Baskin, with whom he did an apprenticeship while studying fine art. Hannock's works appear in numerous museums across the country, including the Metropolitan Museum of Art, The Whitney Museum of American Art, and the Museum of Contemporary Art, San Diego. Bark Frameworks marketing specialist Jennifer Clark sat down with Bark frame designer Paul Jordan, who collaborated with Hannock to create frames for his recent exhibition "Stephen Hannock: Moving Water, Fleeting Light" at Marlborough Fine Art, London.
Jennifer Clark: How did Stephen Hannock approach you to frame his works for this show? Had he worked with us before?
Paul Jordan: Stephen had not worked with Bark before. He had heard about us through artist Gregory Crewdson, a long-time client of ours, and from Michael Chapman, a former Bark staff member. Stephen was finishing up paintings for his London show. He visited our showroom in Long Island City, met and collaborated with Jed Bark and myself, and left one of his works with us to frame. He was seeking more contemporary frame styles than previous framers had used on his work. When he returned, he was so happy with the frame Bark designed for him, that he asked us to frame his entire upcoming exhibition (about ten pieces).
JC: What were some of the challenges in creating frames for this body of work?
PJ: I had not seen the works I was framing for Stephen in person, so that added a bit of a challenge to the job. The success of this project is a testament to Stephen – he made himself available to answer my questions throughout the entire process, and was highly communicative. He had a very good notion of what he wanted the completed frames to look like, and a real eye for color and detail. An example: Stephen and I selected some frame colors/tones here in the showroom, but he never took the samples with him when he left. A week later, he mailed me his own color chips, the color and sheen of which matched exactly the ones we had chosen together.
JC: Did Stephen Hannock have an idea of what he wanted? How did the two of you collaborate to design a frame, and what factors determined the material, size, and style of the frame?
PJ: Yes, he did have an inherent vision for how he wanted his works to be displayed. Working with artists to design frames for their work is exciting. We always make a point to try to be clear in discussing what a frame is, what a frame can be, and what it can do for a work of art. Stephen already had a very good sense for these things—as well as a knowledgeable framing vocabulary. He was really looking for a way the frames could embody his own aesthetic "voice" for his work. He was very open in experimenting with different finishes, including casein. He was sensitive to proportion as well, i.e. how wide the frame is in relation to the dimensions of the work; and proportions of the frame details. We looked at many shapes, colors, and finishes. In the end, we decided on a profile influenced by traditional European forms. Stephen chose muted finishes that didn't compete with the tones of the painting.
Upon completion of the frames, which took about six weeks, Stephen had his completed art works shipped to Bark. After fitters installed the art into the finished frames, Paul e-mailed Stephen images of the final works. He was very pleased with the result, and the gallery picked them up to ship all of the works to London for the exhibition at Marlborough Fine Art, London. The exhibition "Stephen Hannock: Moving Water, Fleeting Light" ran from February 4 – March 1, 2014 at Marlborough Fine Art, London.
Paul is currently working with Hannock on framing his painting The Oxbow, Flooded, for Frank Moore and Dan Hodermarsky (2013)–similar to the painting below–which was recently acquired by the Yale University Art Gallery.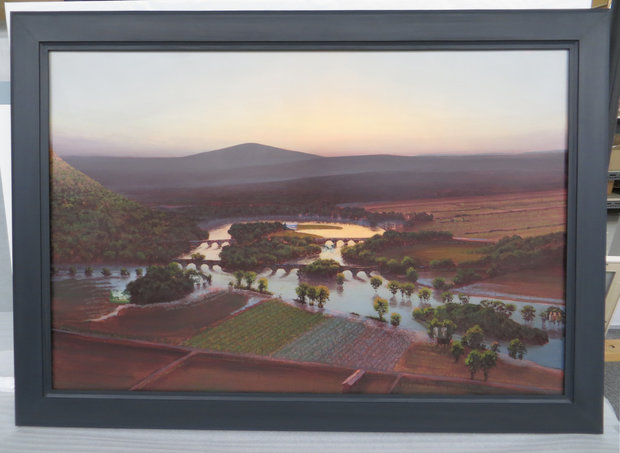 Oxbow II, For Frank Moore and Dan Hodermarsky (MASS MoCA #207), 2014. Oil on canvas, 36 x 54 in.
Bark Newsletter, Vol. 1 – May 2014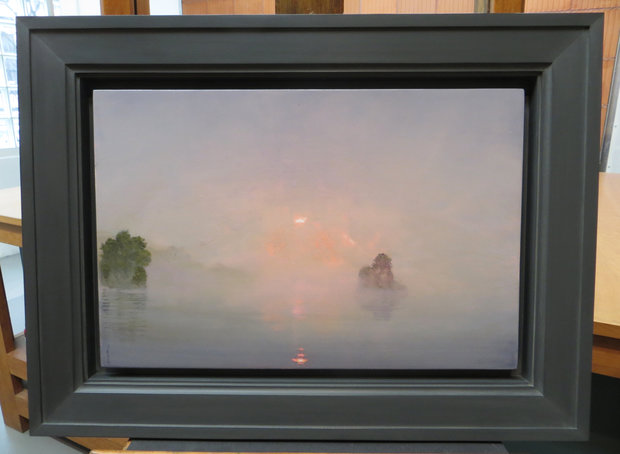 Mauve Fog with Rose Veil (MASS MoCA #202), by Stephen Hannock. 2014. Oil on canvas. 11 7/8 x 18 in.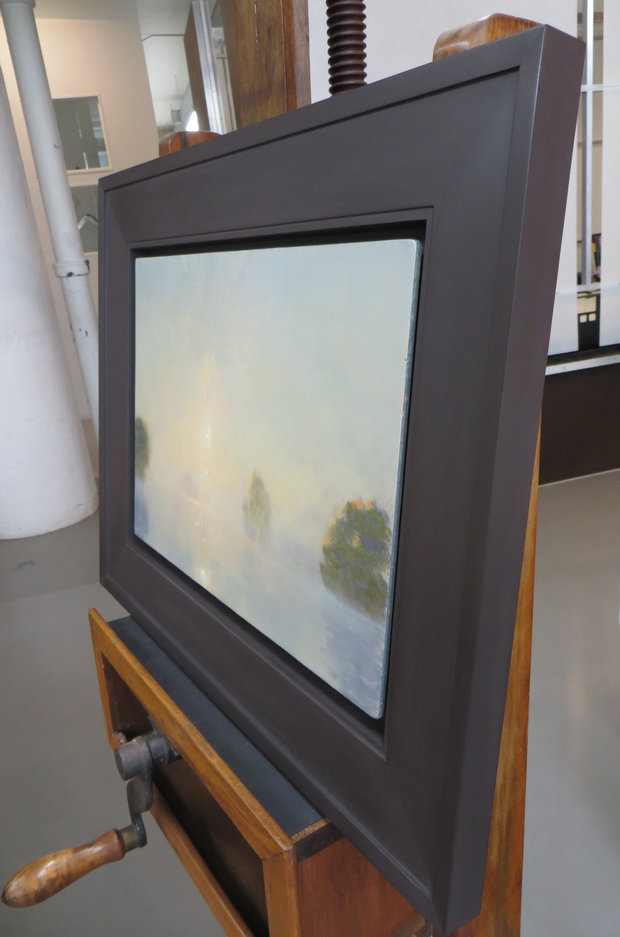 Green Dawn with Escaping Light (MASS MoCA #199), 2014. Oil on Canvas. 12 1/8 x 18 3/4 in.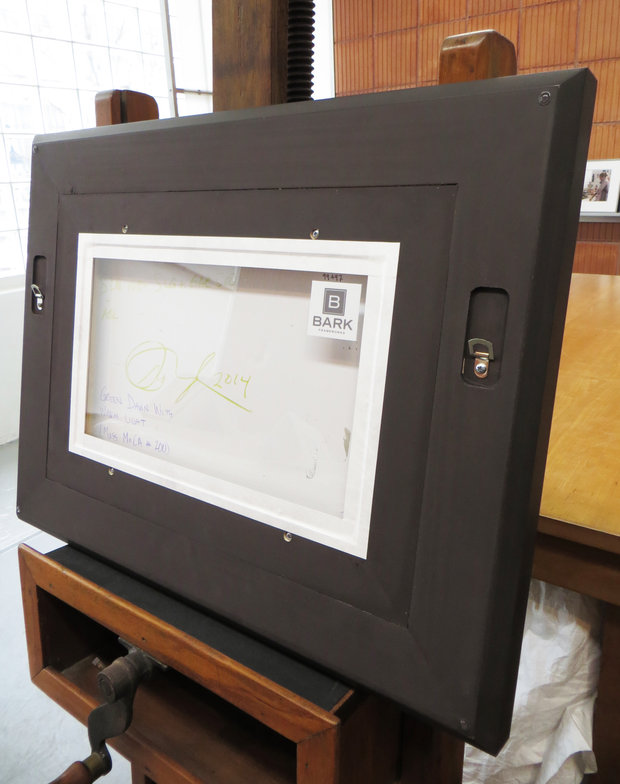 Bark mortised the back of the frame to accommodate D-ring hardware for hanging, and installed acrylic backing, so the painting's signature and title were legible.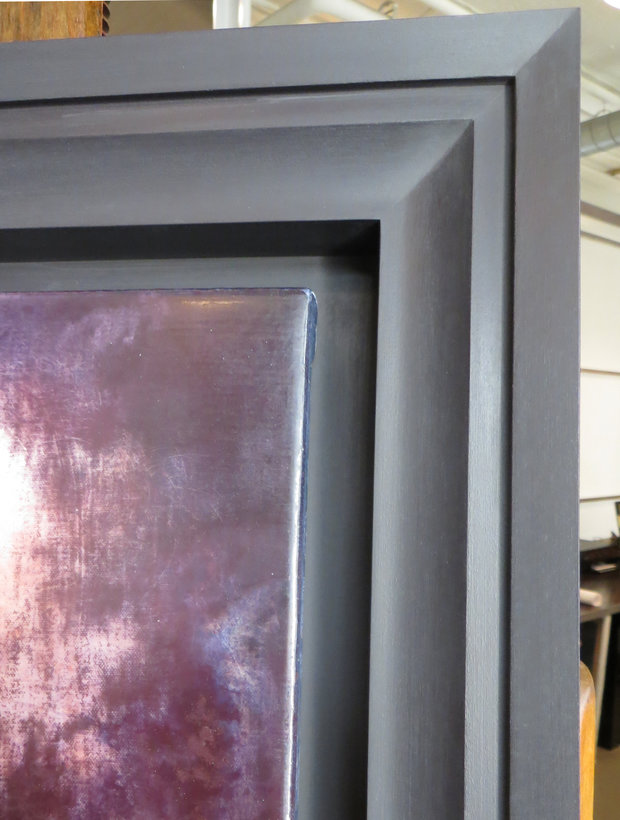 (Detail) Storm Launch Through Cloud Column (MASS MoCA #186), 2013. Oil on Canvas. 14 x 10 1/2 in.