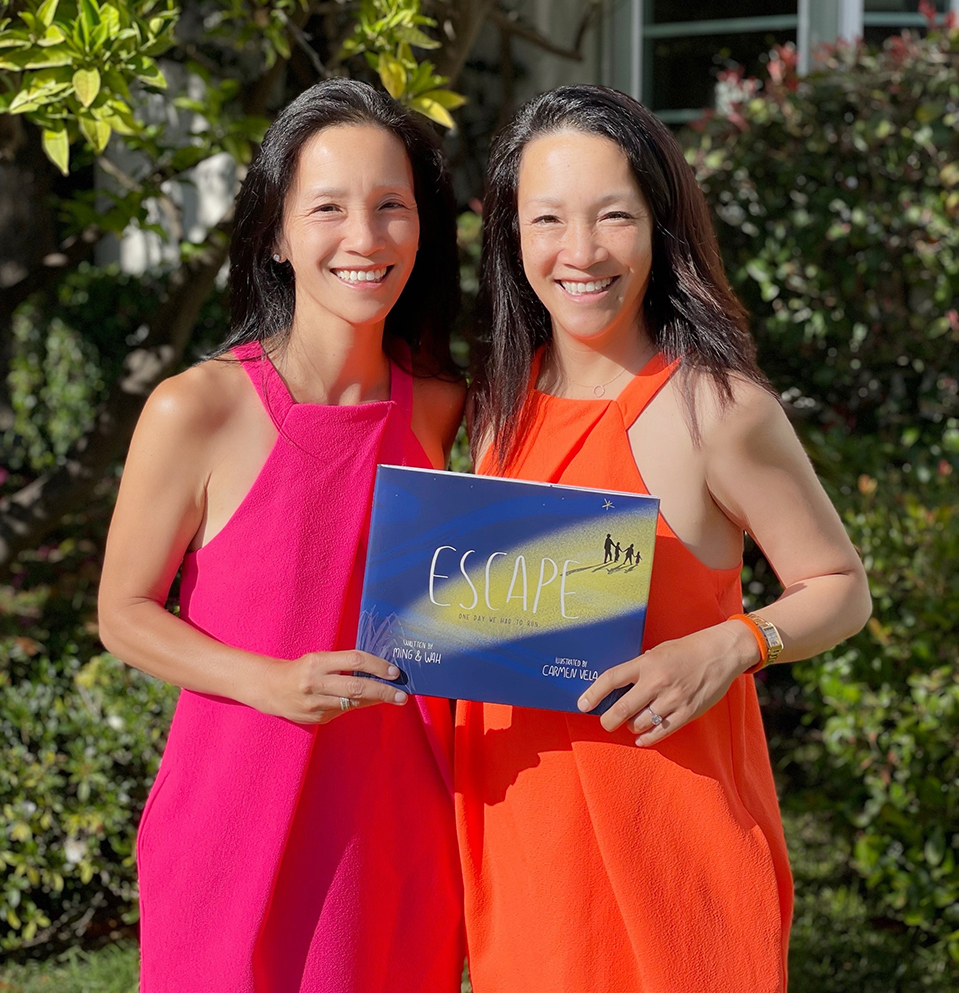 Bark Frameworks CEO Susan Fisher sat down with Wah Chen, the L.A.-based Founding Partner of InSite Development, co-author (along with her twin sister M I N G) of three childrens' books, and mom to three girls. Susan talked with Wah about her recent collaboration with Bark designer Christine Heindl on a custom mirror for her Central Park West pied-à-terre in Manhattan.
Susan Fisher: What were your goals for your space when you came to Bark- what kind of space were you working with? What other objects are in the space?
Wah Chen: My twin sister M I N G and I had been debating for literally years what to hang as the centerpiece for our Upper Westside pied-à-terre's living room wall space. The large square space sits in the middle of built-in bookshelves. In February 2020, I fortuitously attended The Brooklyn Museum's opening for KAWS: What Party with you, and immediately fell in love with the Bark frames designed for KAWS. Bark's contemporary, understated frames made his playfully sophisticated pop culture pieces more haute fabulous, and really, who doesn't love haute fabulous?!  M I N G and I immediately decided after that museum show to special-order a Bark mirror frame for our living room.
SF: Tell us about working with Christine and the collaborative process. What were some of the choices that you made together? Was there anything unexpected that came up?
WC: Working with the Bark team was seamless, even though I live in Los Angeles and M I N G lives in Hong Kong. We sent Christine Heindl pictures of the empty wall space and the exact measurements. I spoke with Christine twice, and she advised on the dimensions after listening to our wishes: to make the mirror frame feel like a piece of artwork, and to help enlarge the living room space.  After taking our needs into consideration, Christine sent over three sample types of frames and suggested dimensions. We decided on a welded aluminum frame with special rounded corners. Last minute I panicked that the mirror would feel too big for that space, so we cut off an inch or two. Everyone was super professional.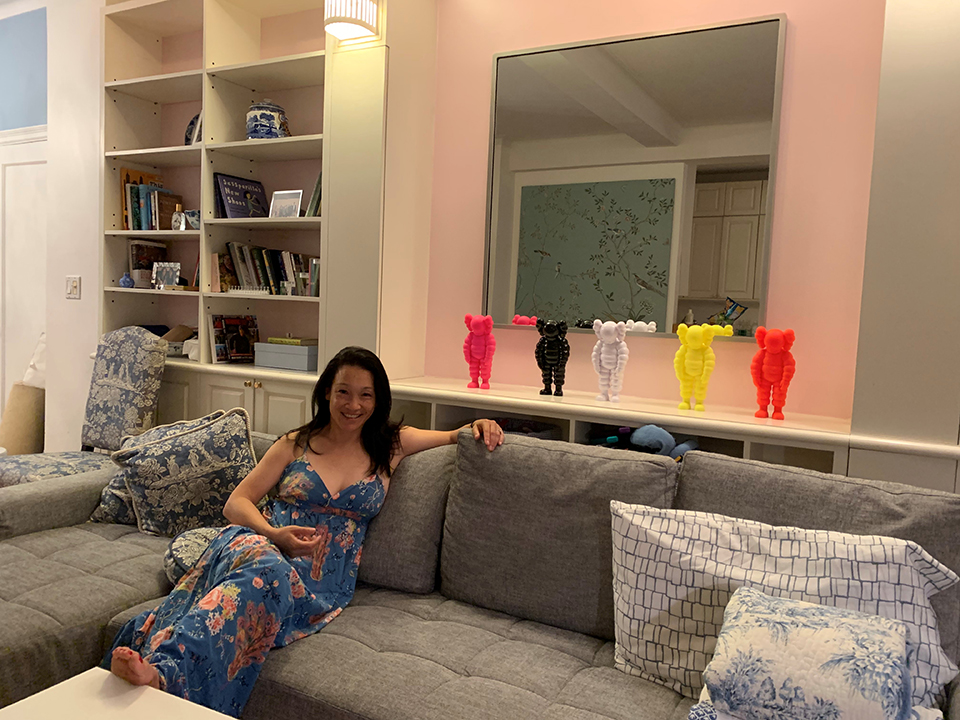 Wah Chen at home in her living room, with the custom Bark Frameworks mirror in the background.
SF: How did the Bark mirror transform the space and how do you feel about the space now?
WC: Bark sent their team to install the custom mirror, and it looks absolutely beautiful. We are très heureuse with our first Bark experience and would recommend them to any curator, decorator, artist, home owner!
SF: What is next on the wishlist for you?
WC: M I N G & I have been shopping for an Ellsworth Kelly, and we will definitely, definitely get the Kelly framed by Bark.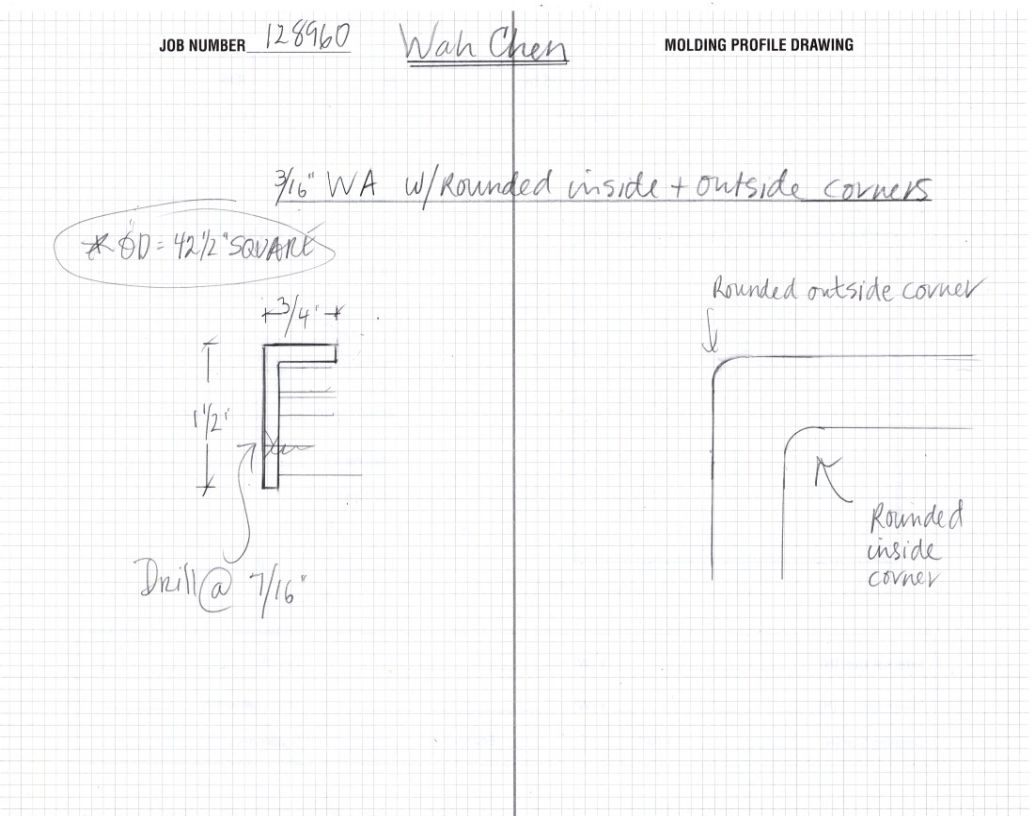 Bark Frameworks designer Christine Heindl's drawing for the custom mirror frame profile. The frame is aluminum with a matte wax finish, rubbed for lustre.
Interview Text: Susan Fisher. Photos: Courtesy of Wah Chen and Bark Frameworks.
Originally published: December 2021.