Gilded frames are generally associated with traditional frame styles—with period frames or their reproductions. At Bark Frameworks, however, since we focus on framing works of art from Impressionism to the present, the range of gilding we practice is eclectic and varied — rarely intended to mimic an antique. Fittingly, our gilders have a wide range of experience and backgrounds. Their unique qualities and talents shine forth in the work they produce here.
One such Bark staff member, Yelena Budylin, learned gilding in St. Petersburg, Russia, where she grew up. A gilder for the past twenty years, she is also an accomplished artist — her vibrant, colorful oils paintings appear in private and public collections both in the U.S. and abroad. Recently, Yelena created two mirror frames as a personal project. They received a lot of attention from her colleagues here at Bark, both for their engaging imagery and for her unusual use of some traditional gilding techniques. Interviewing Yelena about her creations highlights the skill and invention our staff bring to their work with our clients.
Below is one of the two mirrors frame Yelena designed, and for which she did the gilding and ornament. The frame's form is derived from Gothic architecture.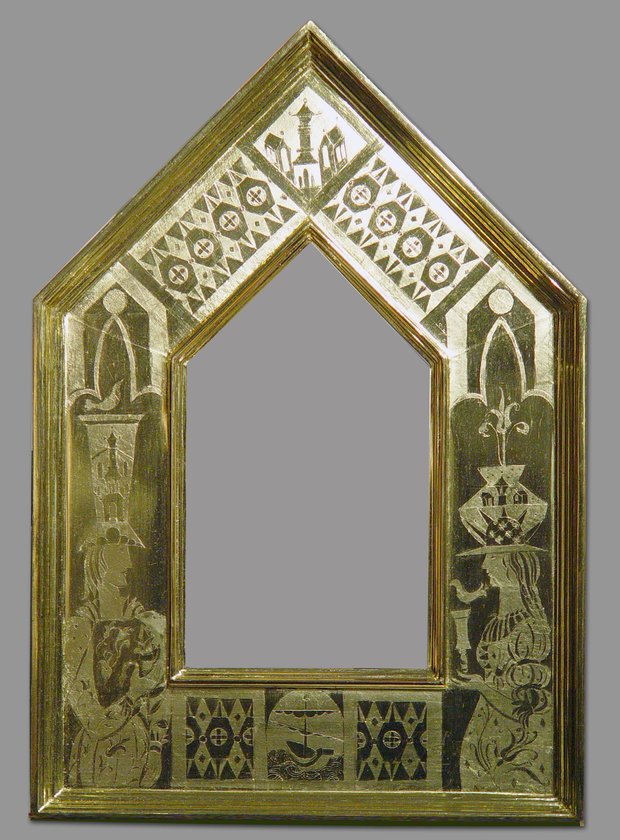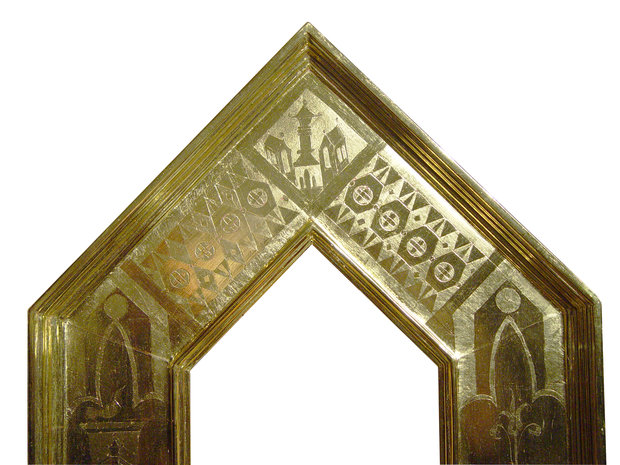 Top center detail, Gothic mirror frame.
Jennifer Clark: What is the imagery in this frame? Where did it come from?
Yelena Budylin: The imagery in the Gothic frame is an Italian Renaissance period poetical fiction with two figures, a man and woman, and ornament on top of the frame–medallions and stylized architecture, incised in gesso. This creates the atmosphere of E.T.A. Hoffman's novels. Hoffman is one of the greatest German romantic writers, poets, painters of the internal world, musicians, and musical critics. I was introduced to his literature when I was 16, and I got the feeling that I had to share his magical double world, where reality and fantasy are consistently interchanged. The figures here could be alluding to Sandro Botticelli's portraits of Simonetta Vespucci and Giuliano Medici.
JC: What is the technique you used to capture these images?
YB: I used gesso incising, gilding, and burnishing to create a contrast in the composition using matte and lustrous surfaces.
Yelena also designed, gilded, and created the images on this frame (below) ornamented with punchwork.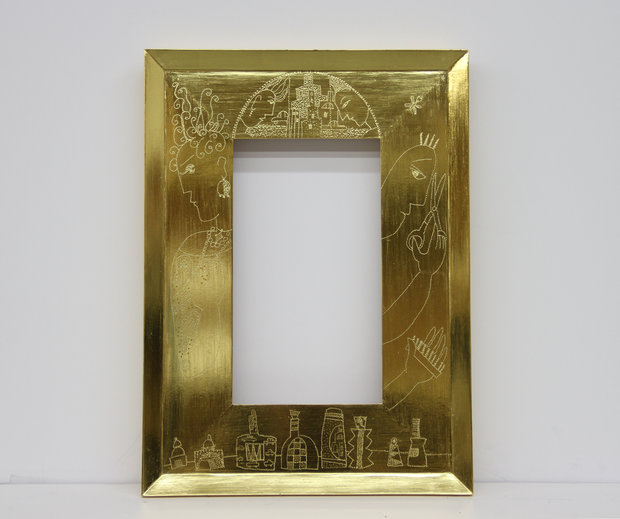 Gilded frame with punchwork ornament.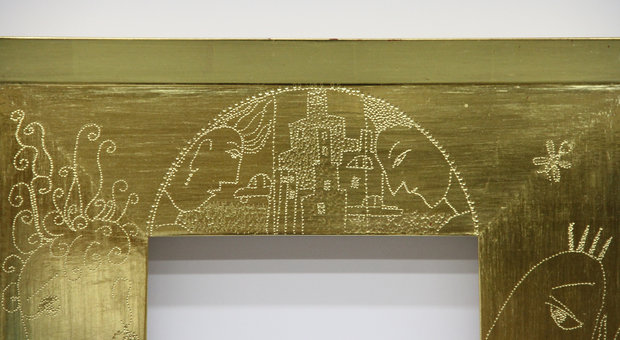 Top center detail, Punchwork mirror frame.
JC: Tell me about the imagery in this frame – what are we seeing here?
YB: This imagery is also based on Hoffman's stories. The design of the frame came into my head spontaneously, three years ago. I had some sketches of a hairdresser and two oil paintings of a hair salon, and a couple of ceramic pieces with some imagery on them. The language of the gilding happened to be theatrical and ironic. Ironic, because I found myself as part of the image on the left — I felt like that woman was an image of myself. If I had not read Hoffman in my youth, I'm not sure I would have made that discovery.
JC: What special technique did  you use to create these images?
YB: I made this frame using punchwork to make the images. Punchwork, "bulinatura" in Italian, is a technique that was mainly used in Renaissance Italian frames, as in the cassetta frame image (shown below). Punchwork is a painstaking process that involves using a hammer and a doming punch to create individual impressions on a frame's  gilded surface. The size and shape of each mark can vary, depending upon the  specific punch that is used.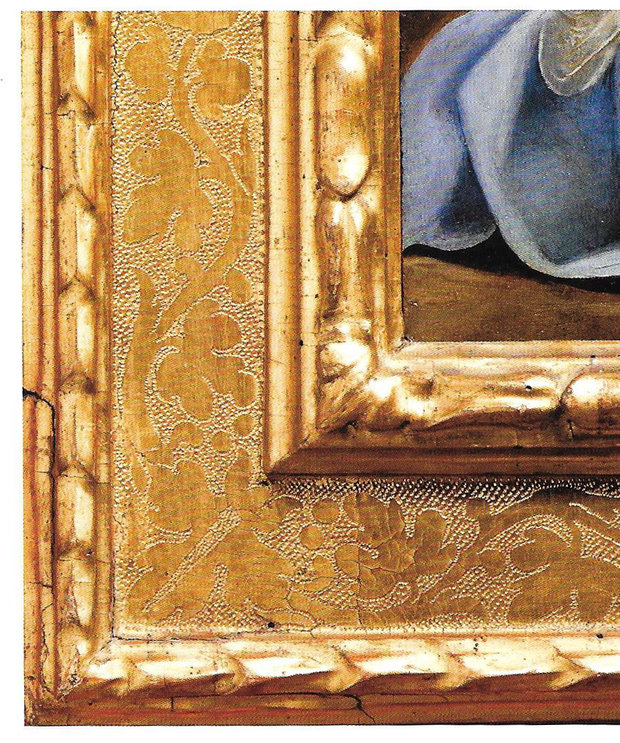 Detail of an Italian sixteenth-century carved and gilded cassetta frame with punchwork (bulinatura) in the background. Photo copyright Looking at European Frames by D. Gene Karraker. J. Paul Getty Museum, Los Angeles.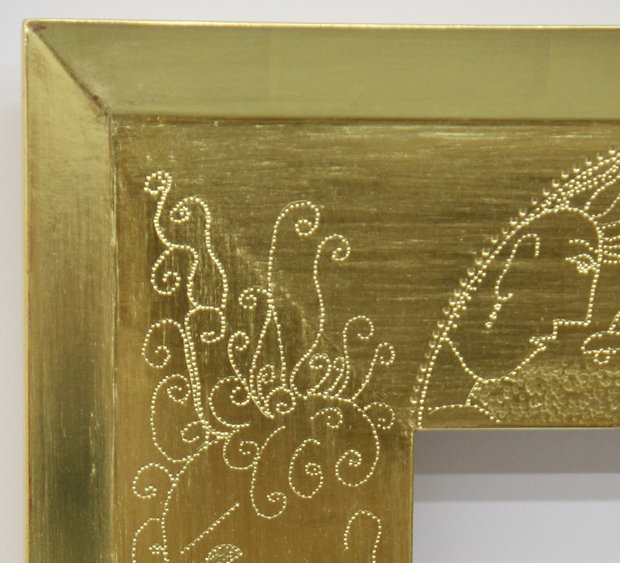 Detail of punchwork on Yelena's frame.
Each mark in the gilding represents a doming punch placed carefully on the gilding, in just the right spot, then hit with a hammer (see image of the punchwork kit below). This technique is so time consuming that it has almost never been used in modern frames. Yelena's approach is unconventional—her punch marks create the image, whereas the bulinatura in Renaissance frames typically forms the background of the image.
JC: This looks like a very exacting process—I estimate there are thousands of punch marks on this frame. This must have taken a lot of time!
YB: Yes, it took 35 – 40 hours to make this frame — woodwork, sanding, gilding, punchwork, etc.

JC: What were the most challenging aspects of making these frames?
YB: The difficult part is to find the reference material such as ornaments, decorative elements, and architecture, to make a complete composition. And this process required a lot of corrections, and attuning of the details.
Thank you, Yelena!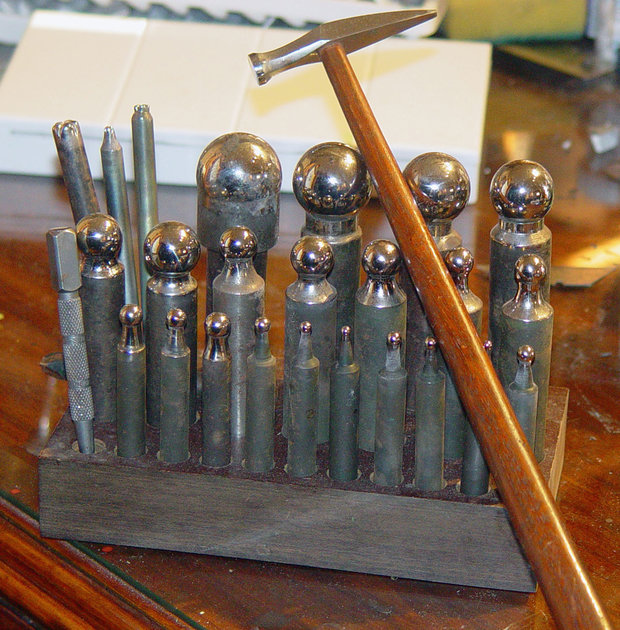 Punchwork kit with punches of different sizes and shapes.