Our Long Island City Facility
A History of Housing Fine Art
Our building in Long Island City has a history of housing fine art related service, having been, until 1999, Christies's principal warehouse. When we acquired the building from Christie's, we over-hauled the structure completely, replacing old factory windows with energy efficient glass block and removing all old internal structures to make open, efficient floor-spaces. At that time we installed air-conditioning and humidification systems throughout its entire 27,000 square feet.
The first floor of our facility houses our art preservation studio, design showroom and offices. The temperature and humidity levels in this area are closely monitored, and the air is filtered. There are multiple light sources: North daylight in the showroom, fluorescent work lights, gallery lights, high intensity lights of specific color temperature and a portable raking light.
Our art transport truck parks in a garage inside the building, which ensures a safe and easy load and unload for frames and works of art. With fourteen foot ceilings and ample floor space, we can accommodate exceptionally large pieces.
Explore Our Shops And Studios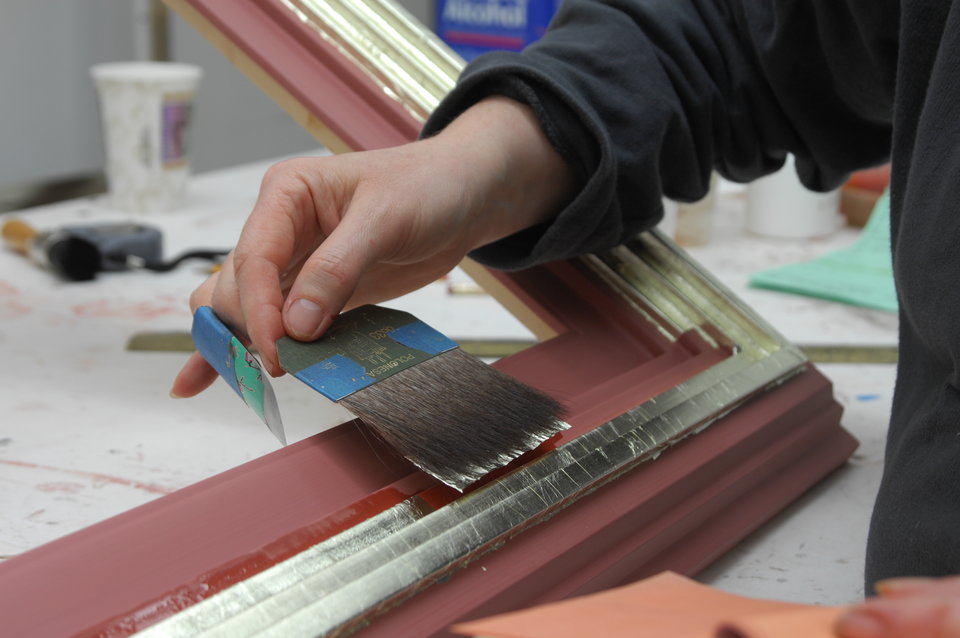 Gilding on wood is an ancient art. According to Herodotus, it was practiced by the ancient Egyptians.
Our method is traditionally known as water gilding. Our gilder prepares the wood surface of the frame with gesso—a mixture of chalk and rabbit skin glue. The gesso is then sanded and polished. Over the gesso the gilder flows on a coat of naturally colored clay, called bole—most often a red/orange color, following the Florentine Renaissance model, but the bole can be any color; Cennini recommended green bole, which we still use, as well as blue, black and yellow.
The laying of the leaf requires a very light touch. The gilder lays down thin sheets of gold, much thinner than tissue, with a squirrel hair brush, called a gilder's tip. The richest gold is 24k, but there are many alloys, including pale gold, red gold and several others. The final step is to burnish the gold to a high luster with an agate stone tool.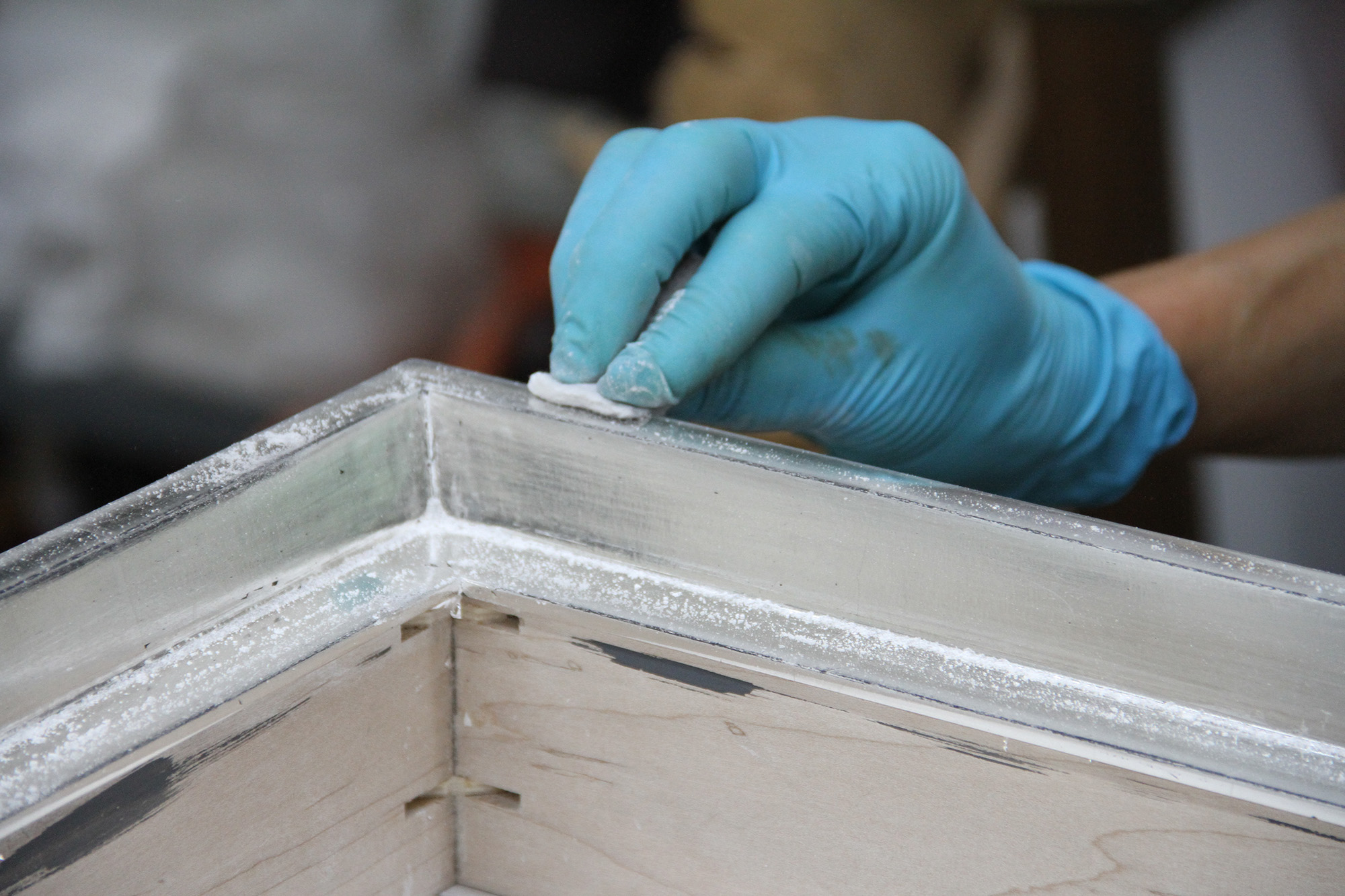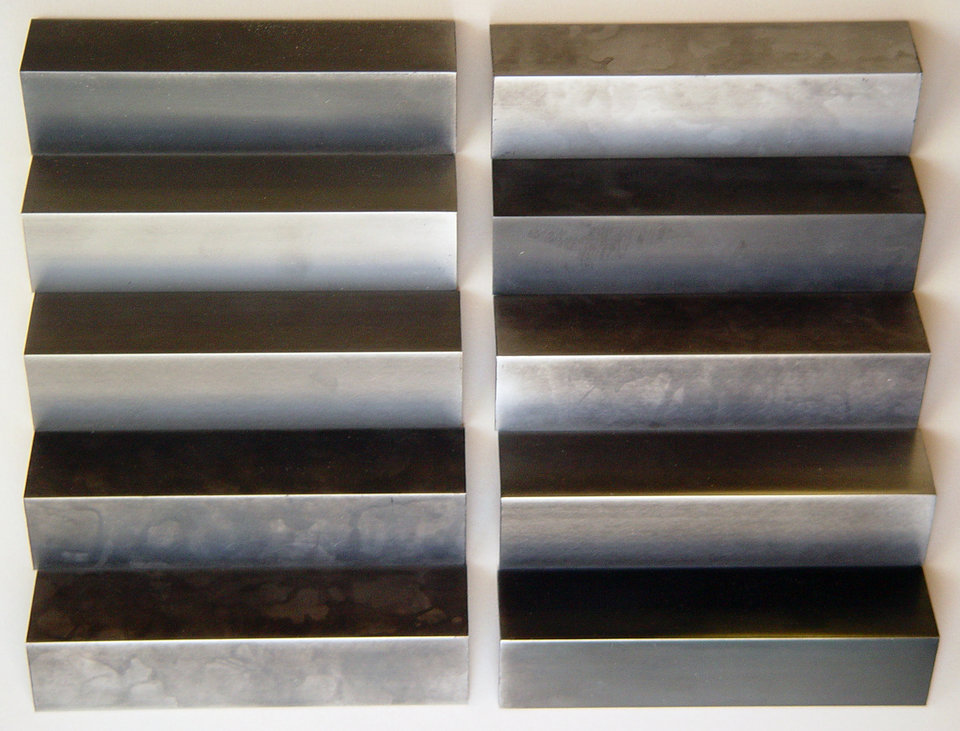 Having our own metal shop affords us a rare capacity for expanding the range of frame design. Since setting up the metal shop in the early 1980's we have experimented with a variety of metals: aluminum, brass, bronze, copper and steel. We have explored and tested numerous patinas and finishes, and we continue to create many new shapes. We also make metal-clad hardwood profiles from copper, brass, zinc and aluminum, further expanding our range of metal framing options. Because we fabricate metal frames in-house, we can respond specifically to the demands of each project. Our versatility in this area is unmatched.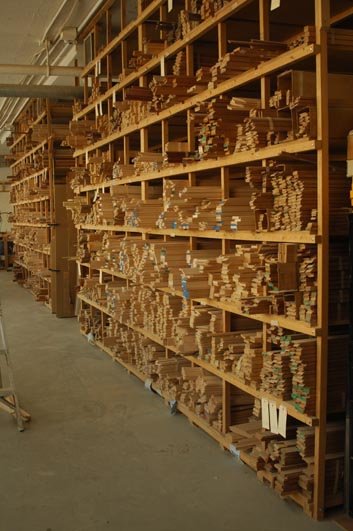 We started out making frames with one radial arm saw. Now we work with an array of cabinet-making tools and equipment. Our woodworkers are capable of performing the most detailed work as well as making frames of the largest dimensions. We routinely make one-of-a-kind mouldings for individual works of art and for whole exhibitions, utilizing a wide selection of hardwoods, mostly from our region, such as maple, walnut, cherry, and ash. Mahogany from FSC certified sources is regularly utilized, and more exotic hardwoods and veneers are occasionally used as well. Finding lumber from sustainably harvested trees has become one of our priorities.
While we keep dozens of profiles in our active inventory, we frequently refer back to our archive to revive mouldings for special projects. Often, we modify one of our existing profiles to better fit the proportions of a particular work.
Carving and hand finishing with gesso and casein finishes represent some of our traditional treatments.Our contemporary finishes include spray finishing with modern water-borne acrylics.
Our entire facility is air-conditioned in summer and humidified in winter so our woods remain well conditioned and stable.